I hope everyone had a great Thanksgiving. Very thankful for a wonderful day, here. I'm releasing a single, soon, my song "Angels." It will be on iTunes and everywhere soon. Here's a link to it on CDBaby. Click the picture to link to iTunes: 
http://www.cdbaby.com/cd/valeriemiller2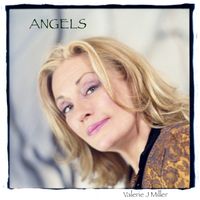 Here's what my PR guy wrote about it :) 
"Filled with light, Valerie Miller's voice soars and lifts into an ethereal realm, now incandescent as light through a flower petal, now sparkling like sunlight in a water droplet, now fluttering with the wings of "Angels," and now thrusting into crescendo- a flower bursting into bloom, her meditative vocalise streaming across an impressionistic landscape of serene instrumentals and dulcet piano, one moment hypnotizing, one moment exciting, every moment a meditation on an angel's journey home to divine nature, across a gossamer mindscape." 
Here's to getting the holiday season off to a good start! -Valerie